superb high quality dental headlights surgical headlights dental surgical illumination H60, light weight designing,high brightness,can be monnted on various kind of dental loupes surgical loupes.
(Notice: this only for headlight not including the loupes,)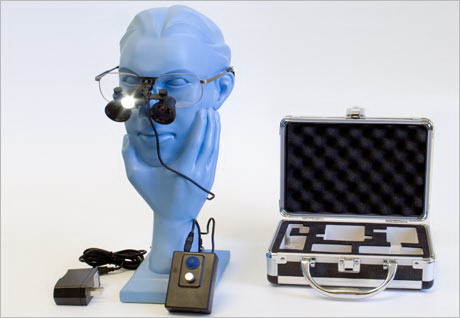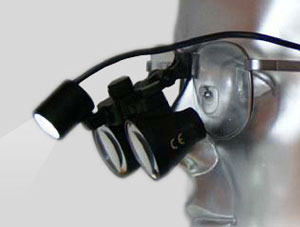 Description
Smallest size, lightest weight, brightest illumination, longest operating time. Easy Light Vario has reformed all the LED portable headlights in the world. Easy Light Vario uses a professional patented optic lens and thermal management technology that produces amazing brightness and provides superior quality and reliability. Easy Light Vario offers exceptional innovation, style and value in magnification and illumination. Easy Light Vario offers modular solutions for optics, frames and portable LEDs to satisfy the needs in the dental and medical marketplace.
LED Headlight
Light head housing material Special Aluminum
Light head size Diameter 19mm, length 21mm
Light head weight 11g
Light source 1 w Light Emitting Diode (LED)
LED color temperature 6,000K (CRT) purely white light
LED operating life 30,000 hours (estimated life, dependent on intensity used)
Highest illumination intensity full variable intensity control
Up to 15,000 -20,000 Lux@feet (the first level)
Up to 25,000-32,000Lux@feet (the second level)
Battery and battery Pack
Battery pack housing material Engineering plastic
Battery pack weight 113g (including battery)
Battery pack dimensions 75mm X 52mm X 21mm
Battery type 7.4V, 1400mAh, advanced rechargeable polymer Li-Ion cells
Charge time approximately 2 hours for a full charge. LED can be used while charging
Battery life up to 500 charge/discharge cycles (Approximately 2 years)
Consistent Output regulated power supply
High battery output efficiency >90 , professional driver control chip
Battery run time at full load of first level is approximately 7-8 hours, at full load of second level is approximately 3-4 hours
Battery adapter Input: 100-240VAC/50-60Hz, output: 8.6 VDC 1000mA

Feature
With our Dental LED Headlight, you'll experience enough brightness, shadow-free, long-lasting illumination with unrestricted mobility that enables you to work with precision while enjoying complete comfort, and improves overall ergonomics .
Our led dental headlight's high edge-to-edge clarity, pure white beam to aid in dental color matching techniques, and hands-free operation, let you focus on your procedures, and allows you to go from patient to patient, without being tied down. While the powerful yet lightweight Lithium-Polymer battery system (only OEM for Japanese brand) provides working hours of uninterrupted user several dentists use it continuously in the whole of working day.Super high quality dental headlight
Packing includes(accessory)
- Easy Light LED Headlight
- Battery Pack
- Battery Adapter with wall plug
- Accessory Kit
- User manual
- Unversial clips
- Standard clips for Flip Up loupes
LED headlight can be attached /clips on/ mounted on below style loupe
1.Flip Up Galilean loupes or Prismatic Loupes
2.Headband Prismatic Loupes
3.Normal TTL loupes
3.various kinds of the eyewear frames
Standard Clips For attached the FliP up Galilean Loupes
Universal Clip parts: It can be attached on varios kinds of frames. eyewear glasses, Prismatic loupes.
Our portable LED healdihgt can be attched on all our Loupes.because the packing includs the unversal clip parts, it also can be attached on various kinds of the eyewear glasses and other brand loupes.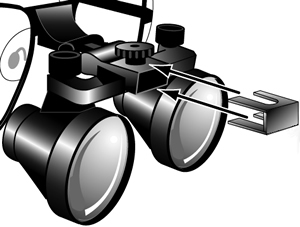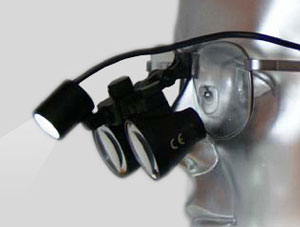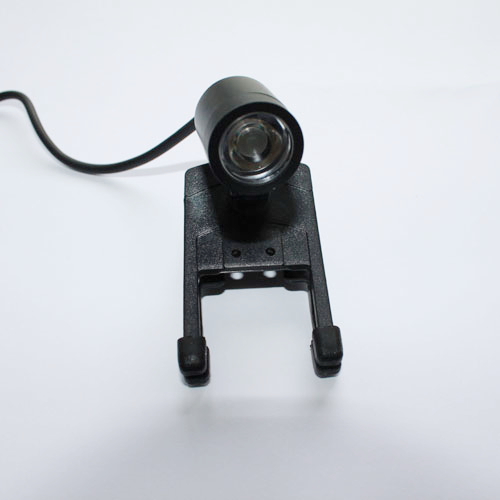 LED headlight can be mounted on Normal TTL loupes well. (mounted on the Normal TTL loupes, the mounted parts is not standard accessory. only order our Normal TTL loupes with our LED headlight. the mounted parts will be packed in the case)