High quality CHL medical light CHL-JC-M08B-CP with Flip Up dental surgical loupes 2.5x 3.0x 3.5x with Titanium frames
This ites includs Medical lmaps CHL-JC-M08B-CP With Flip Up Galilean Loupes Titanium frames as one sets.
Portable Medical Lights CHL-JC-M08B-CP is super brightness medical lamps, it is attached on the Flip Up loupes well ( the clip on parts are easy mounted or released)
flip up Galilean loupes are fully adjustable, and medical lamps are adjustable brightness and angle. co-axis with loupes.
Flip Up binocualrs magnifier Style, Pure Titanium frames , 2.5x 3.0x 3.5x magnification with different working distance,view angle adjustable, pupil distance adjustable.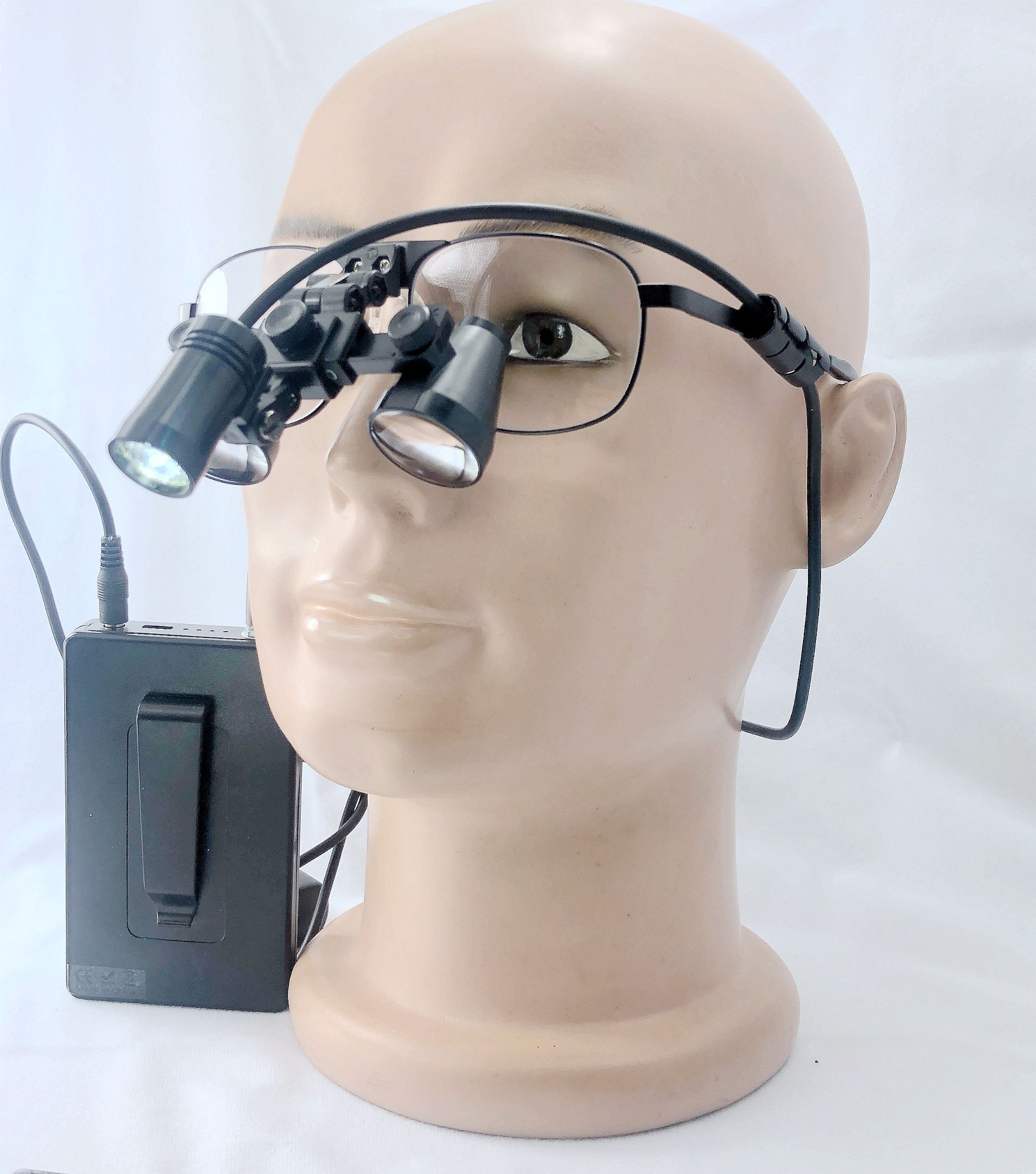 Flip Up Galilean Louopes Titanium Frames 2.5x 3.0x 3.5x Feature
Flip up Galilean Loupes dental surgical medical loupes 2.5x 3.0x 3,5x Titanium frames Feature
Flip Up galilean dental surgical loupes with Titanium Frames are widely used in dentistry, Department of Stomatology, ENT department, general surgery, cervical spine Department of Neurosurgery, cardiovascular and cerebrovascular disease, cosmetology and plastic surgery, pet hospital and other medical fields. surgical binocualrs loupe is a necessary tool for the fine examination and treatment,that will be more better and helpful with LED headlamp.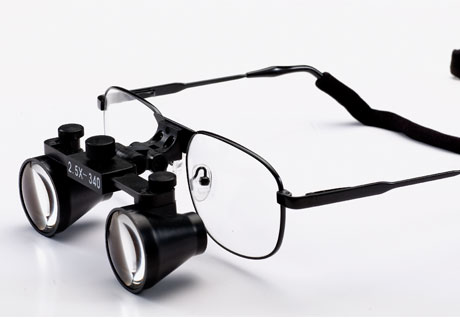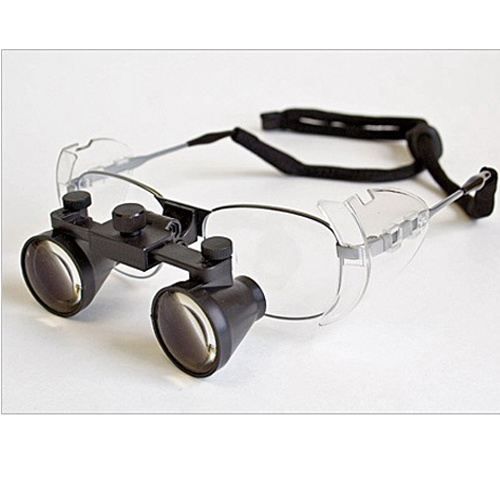 Flip Up Dental Surgical Loupes Features:
Flip Up dental loupes surgical binocular magnifier 2.5X 3.0X 3.5X is widely used in dentistry, ENT, Ophthalmology, Gynecology, meticulous examination and general surgery or pet hospital clinical departments, is an effective visual aid products. 2.5X loupe provide a larger field of view, ultra light design can be worn for a long time; from the perspective of the inter pupil distance is adjustable, allows users to reduce the bending of the neck and back, effectively prevent the occurrence of occupational disease of cervical vertebra.
Pure Titanium Frames using high quality pure Titanium materials, high elasticity, high strength, long lifetime, light weight. The Titanium frames has different size, smalll /middle/ size. The middle size can fit most of the user . The weight of pure Titanium frames is super lighter and stronger, that is special designing for binoculars loupes, the frames demo lens is multi-coated CR-39 plano lens.
Flip Up Dental surgical Loupes with Pure Titanium frames
• High quality Germany optical glass
• Multi-layer coating, increase the light transmittance, effectively reduce the light reflection and loss
• Clear imaging, high resolution, high brightness color image
• Ultra light design, waterproof and dustproof, accurately adjust inter pupil distance
• Field of view, large depth of field design, fully adjustable, magnifier with two angle hinge structure can ensure that the magnifying glass in the angle of 0 DEG -45 DEG adjusted, meet the requirements of various working positions
• Easy to use, can be worn for a long time, the central inter pupil distance adjustment knob control precision adjustment.
• Excellent after-sales service, to provide professional guidance to buy.
super quality dental surgical lamps medical lights CHL-JCM08P-CP
Portable dental surgical medical lamps CHL-JCM08C-CP,Super brightness, lighter weight desnigng, pure wihte with organic filter.
Small and light designing LED lights, different attached parts, it can be attached on medical loupes, eyewear, goggles, headband with different attached parts.
Product model:CHL-JCM08C-CP
Color temperature:6000-6500k white light / 4000-45000k yellow light (with yellow filter)
Illuminance parameters:
Spot size Brightness Distance
4.5cm 95000lux @20cm
7.0cm 50000lux @30cm
10.5cm 40000ux @40cm
Weight: 9g
Light size: 3.3cm legnth dia: 1.7cm
Cable length: 150cm
buble lifetime: 50000 hours
pure white color , brightness adjustable, clerity sharp edge light spots.

Battery packing:
Continue working 10 hours with highest brightness
Mirco usb recharge connector
Battery capacity : 8000mha
Brightness adjustable
Charging time: 4 hours
Power capacity: 8000mAH
Usage time: 4Hours
Charging interface: Type-c Connector
Charging time: 4Hours
Power indicate : Yes
Battery packing with leather bag and clips, it can be attached on belts.

*Flip Up loupes can be worked togethere with our medical Lamps CHL series very well. order loupes together with CHLSeries light as one set, that will be save money.
Medical lamps CHL-M08B-CP Add USD250.00 (IF order only lamps price is USD300.00 +shipping charge)
CHL-M08B-CP description: Portable dental surgical medical lamps CHL-JCM08P-CP (optics-world.com)