Heat resistant conveyor belt PTFE seamless fusing machine belt
PTFE fusing machine belt,also named fusing machine belt,fusing press belt etc.we use fiberglass or Kevlar as basic materials,knitted by special equipment and coated with fine PTFE so finally make one kind of special seamless fusing machine belt.Seamless fusing machine belt overcomes former problems of traditional joint fusing machine belt such as bad stability,ruptures and deflecting for different girth on two sides at the joint.The using life of seamless PTFE fusing machine is much longer than all kinds of joint PTFE fusing machine belt.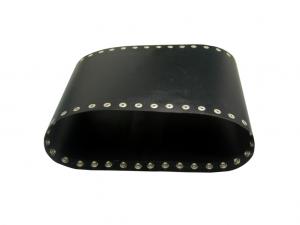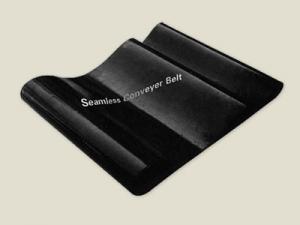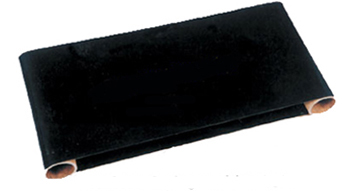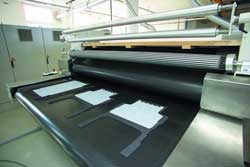 Features of PTFE fusing machine belt:
1.High temperature resistance and adherence resistance;
2.Good tensile strength,preventing deflecting;
3.Excellent capability of resistance of static;
4.Smooth surface,more suits for super thin lining;
5.Flex fatigue resistance,durable,long using life.
PTFE(Teflon) seamless belt for Oshima & Hashima fusing machine
The belt is using high tensile fiberglass or Kevlar as basic material, this belt is woven by special weaving equipment and coated with high quality Teflon.
As Fusing machine belt has no joint and the basic material is very strong, so the lifetime will be much longer than normal belt with joint.
There is no scratch, pin holes and scar on the surface, so the apparel will be laminated even and tight.
Teflon seamless fusing machine belt could be made into Anti-static surface, resulting in a much better fusing experience.
We usually have two color for the belt, black and brown, but black is much more popular , for it is anti static
The actual thickness is 0.38mm or 0.42mm .
Advantages of PTFE fusing machine belts
1)High temperature resistant and Non-stick surface
2)Excellent tensile strength, make a long lifetime!
3)Superior Anti-static surface
4)Smooth surface, no scar on it
5)Flex fatigue resistance, durable, long using life;
6)The edge could be reinforced by Kevlar rope, or PTFE rope, or PTFE thread, or metal rivet.